Brushmin is a character in Kamiwaza Wanda and a Promin. His attribute is Kicchiri.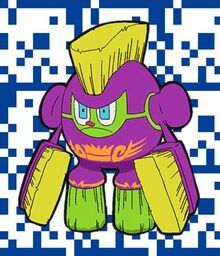 Personal
Appearance
Brushmin is the purple Promin with a chartreuse face. His hands and feet resemble brushes. Brushmin also has orange markings.
For his Bugmin ego, see: Bug-Brushmin
As a Bugmin, he shares the look on his face with Bug-Liftmin.
Personality
Brushmin is a Promin who loves cleaning.
Relationships
Abilities
Brushmin's Kamiwaza ability is to sweep up messes and scrub floors. As a Bugmin, he can sweep the dust at anyone.
In the series
Brushmin made his debut as a Bugmin in episode 25 as he's one of the 5 Bugmins encountered by Wanda and 4 of Yuto's friends. He, along the Bug-Drymin, Bug-Spicesmin, Bug-Showamin and Bug-Mejamin, was then chased by Wanda, Nicole, Souma, Mirai, Yui and Shuu around Kirakira First Street. Later Bug-Brushmin was captured and debugged by Yuto who also captured and debugged the other 4 Bugmins.
In episode 31, Brushmin, along with Senpuumin, Rappumin, Drymin and Liftmin, was summoned by Yuto. With help from the other 4 Promins, Brushmin sweeps up all the rubbings out for Keshigomin who got exhausted after dealing with Bug-Artmin.
Trivia
Background
Resemblances
Brushmin resembles a brush. (like cleaning brushes)
Notes
Brushmin's name comes from the word 'brush'.
Gallery
Links