Bug-Hanshamin is a character in Kamiwaza Wanda and a Bugmin. He is the Bugmin ego of Hanshamin.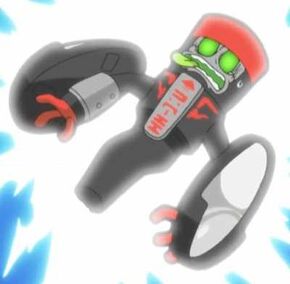 Personal
Appearance
Bug-Hanshamin resembles his Promin counterpart Hanshamin but however, he is a Bugmin. He has a red top on his head, red hands, a grey face and a grey sign on his chest. He also has a black body and black mirrors with grey lens as his shield. All of his markings are in one colour which is red.
Personality
Bug-Hanshamin is always rude to anyone when he reflects lights to them.
Relationships
Other Bugmins (companions)
Abilities
Bug-Hanshamin's Bugwaza ability is to bounce back thrown objects without anyone noticing.
In the series
Bug-Hanshamin didn't made his debut in the original Kamiwaza Wanda season until episode 43. Hanshamin was rebugged by Bug Bites after he was kidnapped by Bug-Liftmin along with Dorirumin, Chakkamin, Stopmin, Yajiromin and Cafemin.
Bug-Hanshamin made his cameo appearance in episode 44.
Bug-Hanshamin was recaptured and debugged by Shuu with Meganemin later on in episode 45.
Trivia
Background
Resemblances
Bug-Hanshamin resembles a mirror.
Notes
Gallery
Links