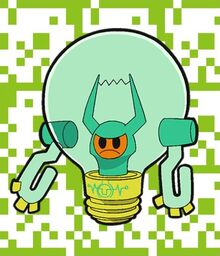 Denkyumin
is a character in
Kamiwaza Wanda
and a
Promin
. His attribute is
Hokkori
.
Personal
Appearance
Denkyumin resembles a Lime light-bulb with a green head, an orange face and a yellow-ish bottom. He also has chartreuse markings.
For his Bugmin ego, see: Bug-Denkyumin
As a Bugmin, he most often frowns with his teeth and toungue showing.
Personality
Denkyumin is a clever and bold Promin.
Relationships
Abilities
Denkyumin's Kamiwaza ability is to light up rooms that are dark. As a Bugmin, he can unleash a light that shines on anyone, attempting to make them blind in the process.
In the series
Denkyumin makes his cameo debut as a Bugmin in the beginning of episode 1.
Denkyumin's major role debut is in episode 3 as one of the 5 Bugmins, along with Bug-Gauzemin, Bug-Jaguchimin, Bug-Freezemin and Bug-Eishamin, encountered by Wanda. Bug-Denkyumin is the first one of the 5 Bugmins to be captured and debugged by Yuto.
In episode 9, Denkyumin was kidnapped by Bug-Liftmin. In episode 10, he was rebugged and was then battling Hasamin. Later, Bug-Denkyumin was recaptured and debugged by Yuto who also captured and debugged Bug-Liftmin.
Denkyumin makes a cameo appearance in episode 13 when he wakes up and lights up when the night falls and then goes back to sleep when the day comes.
Trivia
Background
Resemblances
Denkyumin resembles a light-bulb.
Notes
Gallery
Links