Deodomin is a character in Kamiwaza Wanda and a Promin. Her attribute is Buruburu.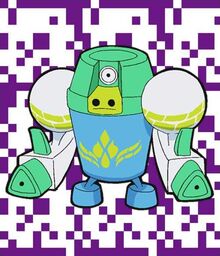 Personal
Appearance
Deodomin resembles a sky-blue spray-deodorant can with white freshener-spray-arms, a sea-green head, a chartreuse face, sea-green hands and chartreuse markings.
For her Bugmin ego, see: Bug-Deodomin
As a Bugmin, her hands are coloured red and grey instead of sea-green.
Personality
Deodomin is the 'house-maid' of the Promins. Deodomin is a kind-hearted Promin. She is an expert at making the air fresh and clear and doing the cleaning up.
Relationships
Abilities
Deodomin's Kamiwaza ability is to rid the stench by freshening the air with some spraying. As a Bugmin, she can spray in silly places and even on anyone's eyes. Ouch!
In the series
As a Bugmin, Deodomin was captured and debugged by either Masato or Mighty prior to episode 22.
Deodomin makes her debut in episode 22 when Masato firsts summons her. She uses her Kamiwaza ability to remove the bad smell that was caused by Bug-Sumerumin.
Trivia
Background
Resemblances
Deodomin resembles a spray-deodorant can.
Notes
Gallery
Links