Divemin is a character in Kamiwaza Wanda and a Promin. His attribute is Shirishiri.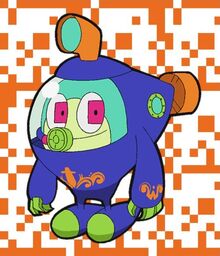 Personal
Appearance
Personality
Relationships
Abilities
Divemin's Kamiwaza ability is to swim underwater. As a Bugmin, he can pull various objects into an underwater-like diamension through watery areas.
In the series
Divemin first appeared as a Bugmin in episode 23 when he kidnaps Masato and Mighty by pulling them, well as some various objects, into an underwater-like diamension through a large puddle. Yuto and his friends later came across Bug-Divemin and chases him down to a warehouse. Recordmin distracts Bug-Divemin by playing Masato's voice. Yuto finally captures and debugs Bug-Divemin, setting Masato and Mighty free for Mutemin as a result.
Divemin appeared as his Promin-self in episode 24. He distracted Boatmin, preventing him getting to Bug-Shugamin.
Trivia
Background
Resemblances
Notes
Gallery
Links
Ad blocker interference detected!
Wikia is a free-to-use site that makes money from advertising. We have a modified experience for viewers using ad blockers

Wikia is not accessible if you've made further modifications. Remove the custom ad blocker rule(s) and the page will load as expected.