Gakkimin is a character in Kamiwaza Wanda and a Promin. His attribute is Shirishiri.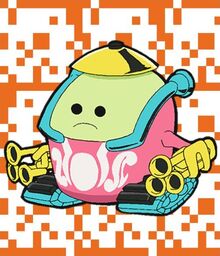 Personal
Appearance
Personality
Relationships
Abilities
Gakkimin's Kamiwaza ability is to manipulate musical instruments and play music. As a Bugmin, he can make music for no reason without anyone noticing.
In the series
Gakkimin was one of the Promins who got captured as Bugmins and debugged by Wanda prior to the beginning of the series.
Gakkimin made his debut in episode 6 when Yuto first summoned him to help Mirai practise for a singing competition. That was until the practising got distracted by Bug-Micmin.
In episode 9, Gakkimin was one of the Promins who got kidnapped by Bug-Liftmin. He got rebugged in episode 10. Bug-Gakkimin messed around in the old man's sweet shop along with Bug-Micmin after Gigaga delivered them to the old man. Later, he got recaptured and debugged by Yuto who was also capturing and debugging Bug-Liftmin.
Gakkimin fused with Turbomin throughout the Kamiwaza Shaker to become Tur-kimin in episode 30 when he, Yuto and Wanda perform some music together in order to comfront Bug-Motemin.
Trivia
Background
Resemblances
Notes
Gallery
Links
Ad blocker interference detected!
Wikia is a free-to-use site that makes money from advertising. We have a modified experience for viewers using ad blockers

Wikia is not accessible if you've made further modifications. Remove the custom ad blocker rule(s) and the page will load as expected.