Plugmin is a character in Kamiwaza Wanda and a Promin. His attribute is Wakuwaku.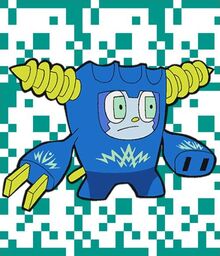 Personal
Appearance
Personality
Relationships
Abilities
Plugmin's Kamiwaza ability is to manipulate electricity. As a Bugmin, he can make electronics malfunction.
In the series
Plugmin makes his camero debut as a Bugmin in the beginning of episode 1.
Plugmin's first major role as a Bugmin is in episode 19 when he distracts the filming of Nicole working in her radio station by messing with the cameras, the lights and the radio control system. Bug-Plugmin then takes control of Nicole, causing her the electrocute anyone she touches until Nicole's dad comes to see her in person. Bug-Plugmin was comfronted by Magnemin and then captured and debugged by Yuto.
Plugmin was first summoned by Yuto in episode 24 when he tried to stop Boatmin from reaching Bug-Shugamin but his electrical attacks were blocked by Hanshamin.
In episode 27, Plugmin helps Hasamin deal with Bug-Rappumin.
Trivia
Background
Resemblances
Notes
Gallery
Links
Ad blocker interference detected!
Wikia is a free-to-use site that makes money from advertising. We have a modified experience for viewers using ad blockers

Wikia is not accessible if you've made further modifications. Remove the custom ad blocker rule(s) and the page will load as expected.