Railmin is a character in Kamiwaza Wanda and a Promin. His attribute is Buruburu.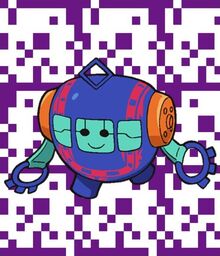 Appearance
Personality
Relationships
Abilities
Railmin's Kamiwaza ability is to give anyone a train ride. As a Bugmin, he can set up a railway rollercoaster.
In the series
Railmin made his first camero appearance as a Bugmin in the beginning of episode 1.
Railmin's major role debut as a Bugmin was in episode 4 when he took both Wanda and Shuu on a railway rollercoaster. That was until Zuzumin stopped him with his droplets. Yuto then captures and debugs Bug-Railmin. Later, as his Promin-self, Railmin gave Yuto and his friends a train ride across the meadowy hills.
In episode 10, Yuto summoned Railmin in order to help his father, his sister Yui and his 2 friends Mirai and Shuu look for Wanda.
Railmin became Mirai's Promin buddy in episode 44 as Yuto passes him to her. Mirai uses Railmin to help her chase down Bug-Turbomin and Bug-Jetmin.
Trivia
Background
Resemblances
Notes
Gallery
Links
Ad blocker interference detected!
Wikia is a free-to-use site that makes money from advertising. We have a modified experience for viewers using ad blockers

Wikia is not accessible if you've made further modifications. Remove the custom ad blocker rule(s) and the page will load as expected.