The Rail Continues is the fourth episode of Kamiwaza Wanda. It first aired in Japan on May 14, 2016 on TBS.
Content
Summary
Whilst playing his game, Yuto ignores Wanda who, along with Yuto's sister Yui, decides to go out and leave Yuto in peace. Later, Wanda gets trapped in a railway roller-coaster thanks to the Bugmin Bug-Railmin. Can Yuto stop Bug-Railmin and save Wanda?
Plot
Nicole started her radio broadcast while Yui and Wanda were staring at window as good atmosphere and Yuto was resting in his room as Yui and Wanda were shocked. Yuto ignores Wanda with playing his video game and Wanda was angry at him(In his word, Wanda said Yuto would better round inside of Saturn's ring). Wanda explains His Kamiwaza Pod to Yuto and Yui and tells Yuto to be his partners, however Yuto refuses it. So Wanda got out of Kamiya Hobby with bringing Kamiwaza Shot and Kamiwaza search light to find his new partner while Yui followed Him. Yui went amusement park with Wanda(Yui was rode on Hobby Horse and Wanda was rode on Toy Train), however Wazai Program attached to Toy Train and the rail under that toy train. Toy train that Wanda rides on moved on strangely changed rail and Wanda found Bug-Railmin on that rail with Kamiwaza Search Light. The rail was connected everywhere even on Hamburger Shop, Massage Spa, Sushi Shop, Mirai's Flower Shop while Bug-Bites happily to see the trouble. When toy train and Wanda were bumped in to wall at dump, Bug-Railmin has escaped. Wanda was finding Bug-Railmin, he saw Shuu's side dish store and had first taste of chicken karaage and started to like them. So Wanda asks Shuu to be his Partner while eating Chicken Karaage, but Shuu was saying difficult things to Wanda. Mirai asks Yuto to stop Bugmin(Bug-Railmin) however Yuto said "Whatever", So Mirai was go search for Wanda with Yui. Meanwhile Wanda telling Shuu to use Kamiwaza Shot, however there was little argument about it and accident that Kamiwaza Shot is falling happened. gladly Wanda found Kamiwaza Shot, however Shuu saw Bug-Railmin and Bug-Railmin kidnapped both of Wanda and Shuu, while Yuto finding Wanda with skateboard without Turbomin. But then Yuto found out Wanda ad Shuu are in trouble with Bug-Railmin so Wanda throw Kamiwaza Shot to Yuto and Yuto summoned Turbomin to chase Bug-Railmin and summoned Tonkmin to making rail round to trap Bug-Railmin. In last, Yuto summoned Zuzumin to help him capture Bug-Railmin, however Zuzumin was slacked with bunch of cats. Yuto was about that but Zuzumin has a plan. And that was make his droplings to Stop Bug-Railmin and then Bug-Railmin was shocked at Zuzumin's Droplings and stop the toy train. Yuto made the chance to capture Bug-Railmin thanks to Zuzumin and de-bugged Bug-Railmin into Railmin. Wanda and Yuto made up as they are team and went to picnic with Yui, Mirai and Shuu also summoned Railmin too.
Trivia
In the episode
Ignoring Wanda, Yuto was too busy playing his game. Leaving Yuto in peace, Wanda and Yui both go out into the playground, taking Yuto's Kamiwaza Power-Shot with them.
Wanda finds himself trapped in a railway roller-coaster started by Bug-Railmin.
Shuu gets picked up along with Wanda by Bug-Railmin.
Yuto got his Kamiwaza Power-Shot back from Wanda.
Yuto confronts Bug-Railmin using Zuzumin and his droplings.
Railmin gives Yuto, Wanda and their friends and Zuzumin and his droplings a train ride.
Background
English dub changes
Characters
Wanda
Yuto
Yui
Shuu
Mirai
Nicole(Cameo)
Zuzumin's droplings(First Appearance)
Promins Summoned
Turbomin
Tonkmin
Zuzumin
Railmin(De-bugged and First appeared as Promin)
Bugmins Debugged
Note: All characters are listed in order of their first appearances in the episode. The time they appear is the time from the Japanese dub..
Gallery
Opening
Episode
Ending
Preview
Videos
Opening
Episode
Ending
Preview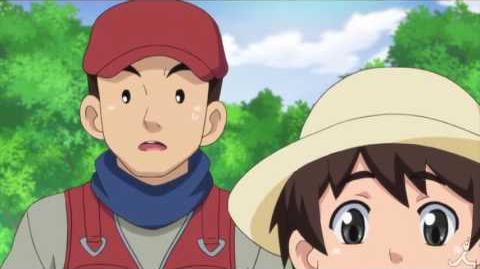 Links