Yumemin is a character in Kamiwaza Wanda and a Promin. His attribute is Wakuwaku.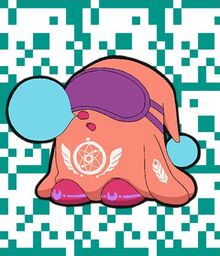 Personal
Appearance
Yumemin resembles a light-orange night-cap with a purple sleep-mask, pinky-red slipper-like feet and white marking. He also has lilac markings on his feet and a pastel-blue bubble attatched to his nose.
For his Bugmin ego, see: Bug-Yumemin
As a Bugmin, the bubble that's attatched to his nose is coloured green instead of pastel-blue.
Personality
Yumemin is a Promin sleepy personality but he's very good at changing the scenarios in other people's dreams. When Yumemin makes a noise, he says 'Yume' or 'Oyasumi'.
Relationships
Abilities
Yumemin's Kamiwaza ability is the manipulate or change anyone's dreams around. As a Bugmin, he turns anyone's dreams into nightmares.
In the series
Yumemin first appeared as a Bugmin in episode 13. He was messing up Wanda's dream, preventing him from reaching the loo. Yuto captures and debugs Bug-Yumemin with help from Wanda and the two Promins Turbomin and Tonkmin. Yumemin was later summoned by Yuto in order to see what's going on in Turbomin's dream.
Yumemin was summoned again in episode 19 just to make Jii Yoda fall asleep.
In episode 31, Yumemin was summoned in order to get Wanda and Yuto to visit Promin-Land and check what was going on there.
Trivia
Background
Resemblances
Yumemin resembles a night-cap.
Notes
Yumemin's name comes from the word 'yume' meaning 'dream' in Japanese.
Gallery
Links